Startup Nation Murals
When we last left off, Wetiko [Kyle] had been offered a mural gig locally, and it'd been determined we'd stay in town "just a couple more weeks" while he finished the job. Since then, things have gotten a little intense (and we've changed website platforms)! With all the craziness, I haven't been great at keeping the blog updates as we go, but I awoke with a new resolution to do just that. Let's get you caught up.
Late last month, Jeff Sloan, CEO of startup incubator 'Startup Nation', approached Wetiko to create several murals for his new incubator space. Jeff had some loose keywords he wanted him to work with to create one-of-a-kind murals in the two-story stairwell leading up to the space, and most of the walls in the office space. Wetiko was ecstatic to have the opportunity to create large-scale pieces and to have the artistic license to do what he wanted with the space. He took the opportunity to invite his friend and fellow artist Vltrr to collaborate on designing and applying the murals in the main room.
Startup Nation is an "incubator" where small business owners, entrepreneurs, freelancers and the like can go to get their businesses off the ground. They offer comprehensive services involving branding, consultation, PR, and design for all kinds of up & coming ventures. With a motto of "Dream, Build, Manage", we knew right away that these were people we wanted to be aligned with. Wetiko and Jeff both knew that they wanted to space to be fresh and exciting, utilizing imagery and colors to inspire and motivate.
The first step of the project was to paint the stairwell. Jeff expressed that he wanted the vibe to be urban, as if the stairwell had been a hot-spot for taggers and graffiti artists for years. Obviously, the language used on the walls had to be appropriate for the workplace, so we came up with a few buzzwords: Reach, Dream, Build, Strive, Climb, [Start]Up, etc. that he could tag to make it look authentic while staying inspirational. Naturally, his "Wetiko" tag would also be sprinkled in. The idea was to exhibit several different styles of graffiti with a consistent color palette to make one flowing piece.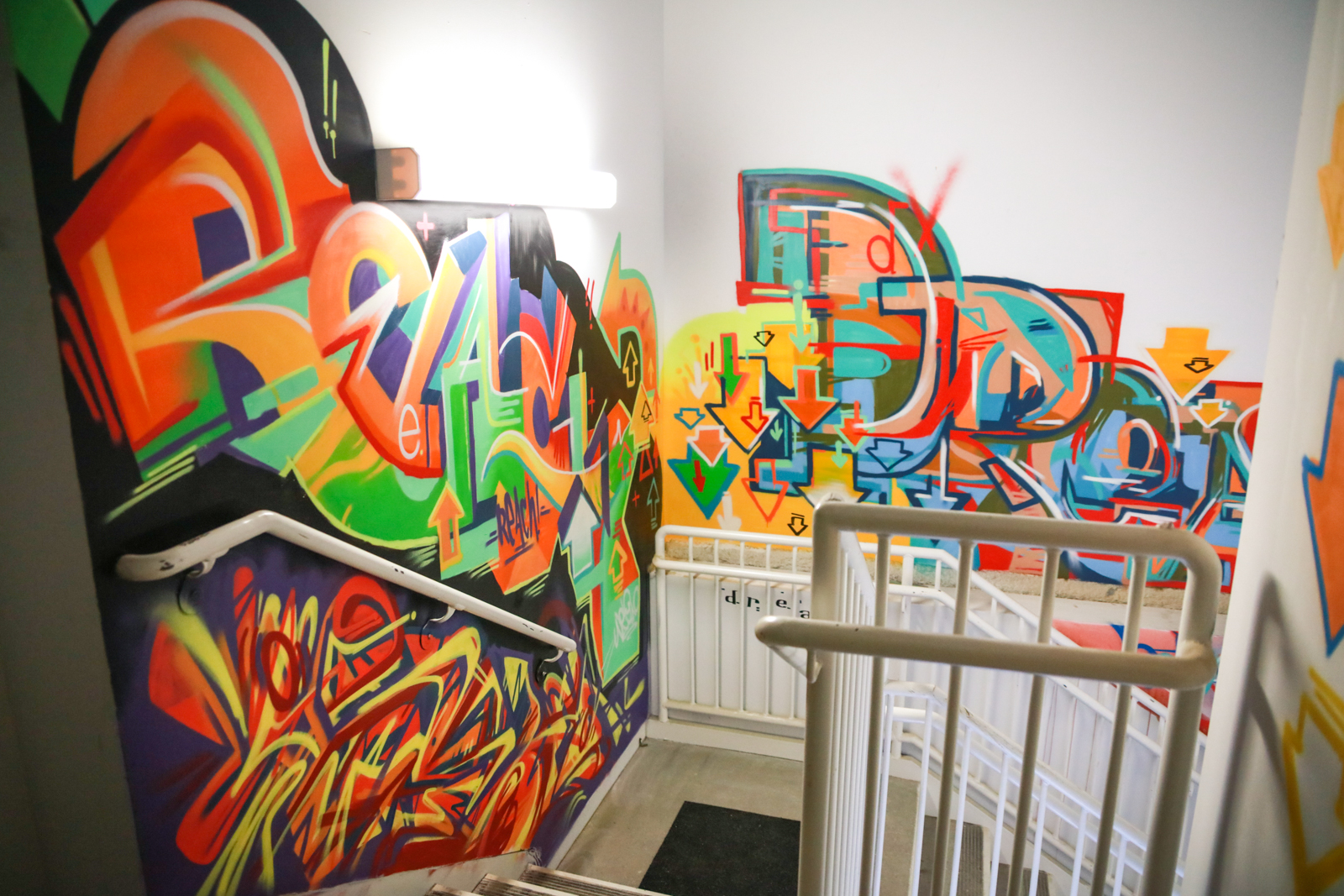 Each wall took Wetiko about a day. He decided to cap the stairwell off at the top with a freehand abstract face showcasing yet another style he's well versed in.
As Wetiko was busy painting the stairwell, Vltrr was putting in work designing the mural for the office space. It was decided they would create 4 separate murals using keywords such as "vision", "dream", "learn", and "wonder" as inspiration for each piece. As soon as the stairwell was done, it was time to get to work putting the collaborative plan in action. The main room murals each consisted of 4 parts: Vltrr's graphics were printed larger than life, cut out, and wheat-pasted to the walls. Posters were made and applied in repeating patterns using a similar method. Wetiko used acrylic paint to add a sheer pop of color to each of the wheat-pasted graphics, and then added accents using spray paint, stencils, markers, and projected images to create layers of texture and color.
The end result is a one of a kind mural that represents Startup Nation as well as both collaborating artists. Overall, the project took about 2 weeks, working mostly nights. Employees moved into the space and began working the same week the murals were being applied in the main room, so daytime access was limited.
What do you think? Which mural is your favorite? We'd love to hear your thoughts in the comments!
Wetiko is open for mural commissions around the country. If you're interested in booking him for a large-scale piece, shoot us a message with your concept, location and information and we'll get back to you asap!